Mother's Day is coming up fast on 8th May and if you're looking for a perfect gift here are our picks for this special lady.
Show her how much you love her with these thoughtful gifts we've picked for her that are guaranteed to bring on a smile. Indulge mom further by bringing her to the Chapters Book Club meet up where we will be discussing work of the famous Bard "Shakespeare for grown-ups: Everything you need to know about the bard (Coats & Foley)" with Dr Devika Brendon.  Take a seat with mom and enjoy a pleasant evening at Chapters – coffee, books and great conversation is guaranteed to make a perfect evening.
 Listen to Your Mother: What She Said Then, What We're Saying Now by Ann Imig
We all need a pick-me-up sometimes and this hardcover hilarious book of essays does just the job. The book is a compilation of personal thought-provoking essays on motherhood and maternal love.
"Listen to Your Mother is a fantastic awakening of why our mothers are important, taking readers on a journey through motherhood in all of its complexity, diversity, and humour."
The stories in the book cover such different aspects of motherhood- from special needs parenting, LGBT, step-parenting, surrogacy, foster parenting and the list goes on. Notable bestselling authors Jenny Lawson and Jennifer Weiner are also among the contributors of this enthralling compilation.
"Brimming with essays from quick-witted, unique writers—ranging from new voices to established ones like Jenny Lawson and Jennifer Weiner—this book covers all parenting territory. Part of it is funny and a lot of it is tear-jerking… You may find yourself staying up way past your bedtime because this one is so hard to put down."
—Parents magazine
Sleeping on Jupiter by Anuradha Roy
This amazing storyteller of an author may sound familiar for those who attended the Fairway Galle Literary Festival earlier this year. Anuradha
Roy was the winner of the 2015 DSC Prize for South Asian Literature for Sleeping on Jupiter. The book is bound to suit reading enthusiasts of 21st century Asian literature and cultural fiction, among other genres. Sleeping on Jupiter received rave reviews from readers across the globe and has received critical acclaim from other contemporaries.
Readers can get an abundant view of modern day India and the relationships as well as religion and love that bind them together. The book is also highly recommended for those who are open to any genre, which in this case, is the ideal pick, owing to the authors fresh narrative and unique talent.
Read the original book description here.
The Beekeeper's Daughter by Santa Montefiore
This book beautifully portrays the peerless relation between mothers and daughters. Brimming with emotion, The Beekeeper's Daughter shifts between two time zones, that of 1932 England and 1973 Massachusetts.
This simple women's fiction novel, being devoid of complicated details and numerous characters, is the ideal gift for mother's who deserve some time apart from everyday stress. Santa Montefiore excels in creating a  rather impressive plot line that shows how far we'd go to find true love and the relationships that bind us, regardless of time and place.
"because in spite of the most terrible suffering, the heart goes on loving; that is the beauty of love."
Tip: The ending will leave you with a good deal of emotion. Highly recommended for readers of contemporary and romantic fiction.
For full book description, click here.
This is Where I Leave You 

by

Jonathan Tropper
(Featuring cover artwork from the major motion picture starring Jason Bateman, Tina Fey and Adam Driver)
This book made us laugh out loud! The author of Everything Changes made headlines with this high spirited and entertaining novel of family, love marriage and divorce.
"The death of Judd Foxman's father marks the first time that the entire Foxman clan has congregated in years. There is, however, one conspicuous absence: Judd's wife, Jen, whose affair with his radio-shock-jock boss has recently become painfully public. Simultaneously mourning the demise of his father and his marriage, Judd joins his dysfunctional family as they reluctantly sit Shiva-and spend seven days and nights under the same roof. The week quickly spins out of control as longstanding grudges resurface, secrets are revealed and old passions are reawakened. Then Jen delivers the clincher: she's pregnant."
"It would be a terrible mistake to go through life thinking that people are the sum total of what you see."

---

"Often sidesplitting, mostly heartbreaking…[Tropper is] a more sincere, insightful version of Nick Hornby, that other master of male psyche." —USA Today
---
This is Where I Leave You is a must read for anyone looking for a laugh!
My Name Is Lucy Barton by Elizabeth Strout

This powerful novel by award winning author Elizabeth Strout is one of those novels every book lover must own! My Name is Lucy Barton received much praise, being the April pick for our book club launch on April 3rd. This moving story between Lucy and her mother will make you question the unimaginable. Strout's insight and powerful writing form the backbone of this literary masterpiece.
"It interests me how we find ways to feel superior to another person, another group of people. It happens everywhere, and all the time. Whatever we call it, I think it's the lowest part of who we are, this need to find someone else to put down."

---

Dr. Devika Brendon who leads our book club had this to say:
"Reading the book is like listening to Lucy Barton speak to you, like watching a person put a puzzle together, seeing how the pieces fit and arranging them in a way that makes sense to her at last. A tough, moving & realistic story told in the first person, about the need to survive when love is not there to rescue you."
---
"A short novel about love, particularly the complicated love between mothers and daughters, but also simpler, more sudden bonds . . . It evokes these connections in a style so spare, so pure and so profound the book almost seems to be a kind of scripture or sutra, if a very down-to-earth and unpretentious one."—Marion Winik, Newsday
---
Rosa's Thai Café- The Cookbook
Book Synopsis- In keeping with the contemporary twist on authentic Thai cuisine "Rosa's Thai Café The Cookbook" celebrates traditional Thai cooking techniques. The book features over 100 recipes, including dishes from the menu at Rosa's as well as family favourites and regional dishes from founder Saiphin Moore's regular trips back home. Recipes range from the aromatic Beef Massaman Curry to the Soft Shell Crab Salad, Larb Spring Rolls, homemade Sriracha Sauce and Mangoes with Sticky Rice.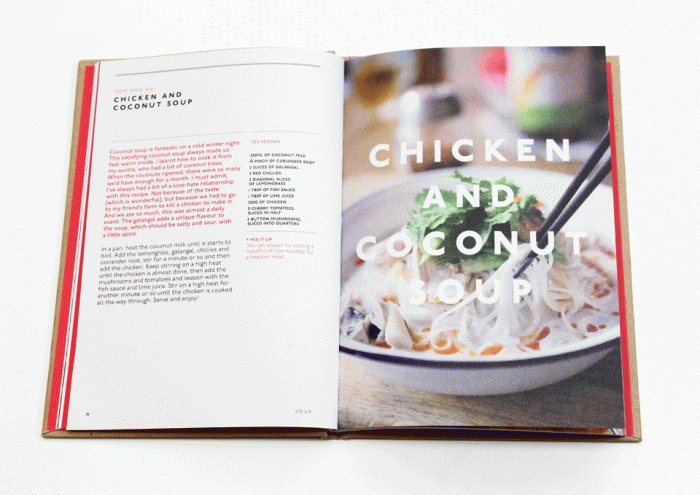 Non book gifts
Made from just a single piece of thin, durable polypropylene, these inventive bookends use a novel 'living hinge' tosolve a usually bulky bookend problem. They fold flat (great for retailers), they stand up straight (great for books) and, ifwe do say so ourselves, they look pretty fab anywhere around the home – which is great for everyone else.
On the base, each has complimentary coloured grippy feet to keep them rock steady, the bookends can be easily wiped clean and, most importantly, they're very, very strong!
Sold as singles, if you only want one, or why not mingle, mix and match your perfect bookend partner from a choice of 7punchy colours in our singles dating lounge (or display box!). Perfectly at home in the lounge, kitchen, study or children's bedrooms and absolutely ideal everywhere in the office.
Notebook shaped in the letter A, filled with quality cream plain paper, over 100 sheets.
Alphabet Letter Notebook from the new Alphabooks range.
This particular Alphabook is a gorgeous notebook in the shape of the letters with a clever book spine so it would blend in on a bookshelf! It is a unique personal gift for a stationary fan or a nice accessory for someone that loves their home! A fantastic product!
Measurements Approximately 13 x 19 x 3cm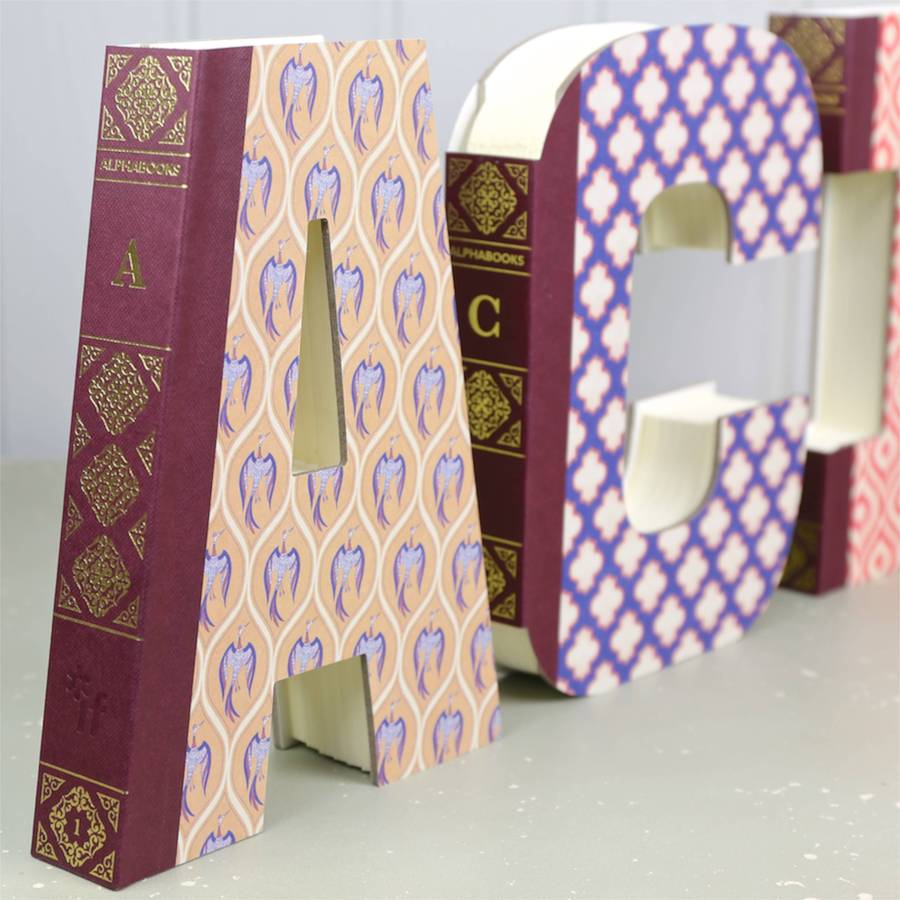 the brilliant reading rest
The Brilliant Reading Rest comes in glorious technicolor – in fact, seven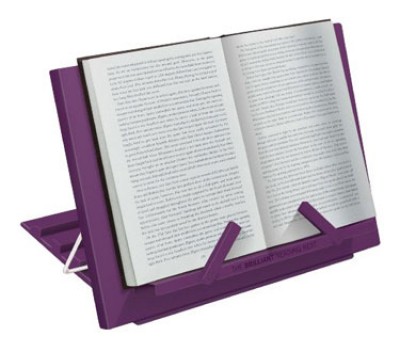 rather dashing technicolors that are right on-trend.
This one is durable and wipe-cleanable making it particularly suitable for the kitchen or workshop. It can be easily adjusted to three angle settings and conveniently folds down flat when not in use. But when wouldn't it be!??
We think it's very much brilliant by name, brilliant by colour and all round brilliant by design. This one is certainly ready to stand up and be counted!