"I will defend the importance of bedtime stories to my last gasp."
~ J.K Rowling
It's so easy to dismiss reading books in a world increasingly controlled by gadgets and gizmos- that we forget to understand the lasting impression that books can have on a child's life. A cosy nook and a splendid book are all you need to create some precious time with your kids this holiday season and plant that seed to cultivate a rewarding habit for the new year.
Simply put, books give wings to your children to take flight outside of their world. You should take a bow if that's what you've been doing in 2016 because we are applauding you!
The opportunities are endless with a paperback in your hands; transport your kids to the magical land of Narnia¹, go through the looking glass with Alice², be inspired by Auggie Pullman³ or even be Huck Finn's trusted sidekick⁴!
¹Chronicles of Narnia- C.S Lewis | ²Alice through the Looking Glass- Lewis Carroll | ³Wonder- R J Palacio | ⁴The Adventure of Huckleberry Finn- Mark Twain
If you are thinking of starting something new with your kids in the new year, consider that one of the best gifts you can give your children is the gift of imagination and a long-lasting love for reading.
Here are a few of our favourites at Chapters to help you start the new year on a grand note.
A Little Stuck- Oliver Jeffers
From the illustrator of the #1 smash "The Day the Crayons Quit" comes another bestseller –a giggle-inducing tale of everything tossed, thrown, and hurled to free a kite!
A specially adapted board book edition of Oliver Jeffers' laugh-out-loud classic, Stuck.
When Floyd's kite gets stuck in a tree, he's determined to get it out. But how? Well, by knocking it down with his shoe, of course. But strangely enough, it too gets stuck. And the only logical course of action is to throw his other shoe. Only now it's stuck! Surely there must be something he can use to get his kite unstuck. An orangutan? A boat? His front door? Yes, yes, and yes. And that's only the beginning. Stuck is Oliver Jeffers' most absurdly funny story since The Incredible Book-Eating Boy. Childlike
 in concept and vibrantly illustrated as only Oliver Jeffers could, here is a picture book worth rescuing from any tree.
Does a Kangaroo Have a Mother, Too?– Eric Carle
Do animals have mothers, too?
Of course, they do—just like me and you! From baby kangaroos, called joeys, to baby elephants, called calfs, every kind of animal has a mother. Inside this playful and colourful book, you will see all sorts of different babies with their mothers, all with one thing in common: Their mothers love them very, very much—just like your mother loves you! Come right in and meet the family—the animal family, that is—in words and pictures by Eric Carle.
Guess How Much I Love You All Year Round– by Sam McBratney
Illustrated by Anita Jeram
"Gorgeous watercolours illustrate this affectionate story. A perfect picture book."

-The Good Book Guide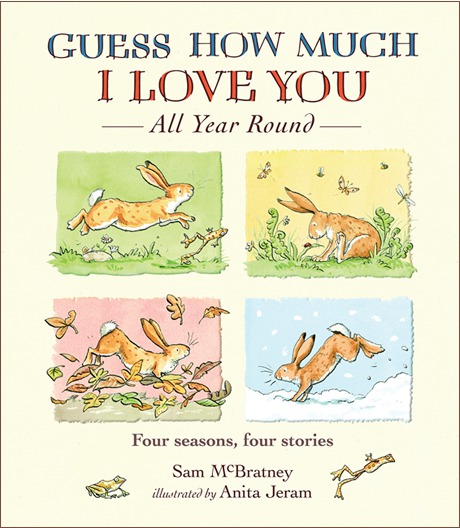 Big and Little Nutbrown Hare, from the multi-million-copy-selling picture book "Guess How Much I Love You", return in these four stories: Spring, Summer, Autumn and Winter. Each captivating tale is seasonally themed and beautifully illustrated – perfect for sharing with your very own Little Nutbrown Hare, no matter the time of year!
The Mick Inkpen Treasury
Mick Inkpen is a household name; his books are loved and cherished by children around the world. Here is an endearing treasury for children to listen to and enjoy for many years. Titles featured in the treasury are: "Lullabyhullabaloo", "Billy's Beetle", "Nothing", and, "Bear".
It is a perfect gift item and is destined to become a child's personal treasury.
Giraffes Can't Dance- Giles Andreae
Number One bestseller Giraffes Can't Dance from author Giles Andreae has been delighting children for over 15 years. Gerald, the tall giraffe, would love to join in with the other animals at the Jungle Dance, but everyone knows that giraffes can't dance. Or can they?
A funny, touching and triumphant picture book story about a giraffe who finds his own tune and confidence too, with joyful illustrations from Guy Parker-Rees and a foiled cover.
"… wonderfully funny." – Independent

A fantastically funny and wonderfully colourful romp of a picture book. All toddlers should grow up reading this or hearing their parents read it aloud to them. – Daily Telegraph

A joyful read about an outsider who finds acceptance on his own terms…. there's also a simple moral about tolerance and daring to be different. – Junior
The Tiger Who Came to Tea– Judith Kerr
Read the classic story and enjoy your very own tiger tea party, with this delightful book and china tea set!
The doorbell rings just as Sophie and her mummy are sitting down to tea. Who could it possibly be? What they certainly don't expect to see at the door is a big, furry, stripy tiger!
This captivating picture book has delighted generations of children for more than forty-five years. Now little ones can recreate the tiger's visit with their very own tiger tea set.
This beautiful gift set contains: 1 hardback edition of The Tiger Who Came to Tea', 1 china teapot, 2 china cups, 2 china saucers and 1 china milk jug perfect for hosting your own tiger tea party!
"A modern classic." The Independent —